Here are some of the events taking place this month in Chamonix:
Kandahar
The 20th edition of Kandahar is returning to the Chamonix Valley. The Verte des Houches will host the Men's Ski Alpine World Cup; the Slalom race will be on the 8th and Parallel Giant Slalom on the 9th February. Head to their website for more useful information and to buy tickets.
WTF
If you are searching for the best apres ski, then look no further than the WTF at the Folie Douce Hotel (823 Allée du Recteur Payot, 74400 Chamonix-Mont-Blanc). The party is happening every Thursday from 18h00 until 01h00. In addition, get out your best suits and flapper dresses because every Saturday the Folie Douce will host a 1920s themed night from 18h00 until 01h00.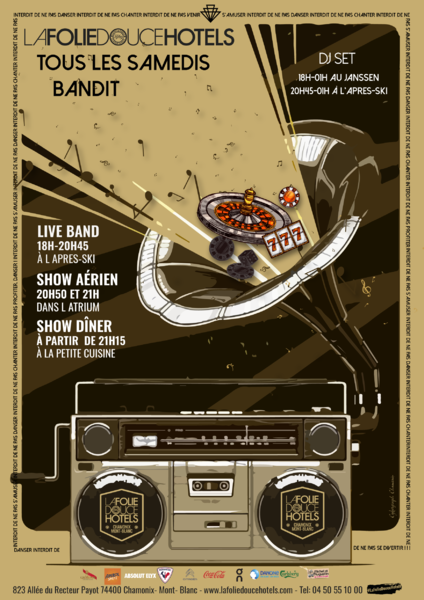 If partying isn't your thing, then perhaps a well-being course is right for you. Every Tuesday from the 4th February the Maison des Jeunes et de la Culture (94 Promenade du Fori, 74400 Chamonix-Mont-Blanc) will have a course which includes meditation, Hatha yoga and Qigong. Held between 17h30-20h30 and a full price ticket is 30€.
Studio rusc
Another great option if you're feeling about getting back into or starting with the arts. Studio Rusc in Chamonix Sud have lots of workshops during the week, including sculpture, drawing, painting and a live model class. It costs 22€ per class or 200€ for 10 sessions.
Les Pionniers
Come and show your support for our local ice hockey team Les Pionniers who will be playing matches at the Chamonix ice rink/patinoire Richard Bozon in the centre of town (just behind the Place du Mont Blanc). Here's the schedule for February:
11th February – Chamonix vs Gap at 20h30
18th February – Chamonix vs Nice at 20h30
Six Nations 2020
The Six Nations 2020 just started this weekend. Searching for a venue to have a cold beverage and support your rugby team? The Jekyll (71 Route des Pelerins, 74400 Chamonix) will be showing all the games. Here is February's schedule:
Saturday, 8th Feb – Ireland vs Wales at 15h15 and Scotland vs England at 17h45
Sunday, 9th Feb – France vs Italy at 16h00
Saturday, 22nd Feb – Italy vs Scotland at 15h15 and Wales vs France at 17h45
Sunday, 23rd Feb – England vs Ireland at 16h00
Sources: chamonix.com, chamonixworldcup.com, dansmonbocal.com