About Chamonix
In the heart of the Alps, at the foot of Western Europe's highest, mightiest mountain Mont Blanc (4810 masl), lies Chamonix, the capital of extreme sports. In 1786 alpinists Michel Paccard and Jaques Balmat were the first to climb Mont Blanc and since then Chamonix has grown to become the mecca of adventurous mountain sports.
Today, Chamonix has around 10'000 permanent inhabitants. During Summer and Winter seasons this number swells dramatically to about 100'000 inhabitants and visitors. Chamonix is a nice mix of tourists, seasonaires and extreme sports enthusiasts, all with a mutual interest in the mountains. You can meet the world's best climber in the supermarket and watch your favourite skier riding extreme lines right from the ski lift. Chamonix is the place to be!
Sports and events you mustn't miss in Chamonix
There are so many sports and events going on in Chamonix, if we listed them all we would need to build another website! That is why we decided to share with you some of our favourites in the text below. You can also read our blog or visit our Facebook-page to find out more about what's going on at Insted and in Chamonix.
Winter
There are 6 ski areas in Chamonix, all connected by the free bus and train service. Skiing and snowboarding are the most popular winter activities but ice climbing, ski du fond and paragliding are also popular sports. The Aiguille du Midi is one of the world's highest ski lifts and can be accessed just 350 meters from our language school. Here you step into a pure alpine wilderness, very popular for off-piste skiers. This is also where the Vallée Blanche starts, with over 20 km of skiing and 2700 meters of vertical descent it is a "must do" for confident off-piste skiers visiting the valley. We strongly recommend that you hire a guide so you make it down safely as it is entirely unpatrolled and poses risks.
Musilac Mont-Blanc
Musilac and Chamonix Mont-Blanc are collaborating together to host an incredible Pop and Rock Festival. 15,000 spectators will come in April 2020 to listen to musical artists from around the world. Musilac Music Festival is an event you don't want to miss!
Chamonix Unlimited Festival
Chamonix Unlimited Festival is a yearly event that is organised by ski brand Black Crows. They invite DJs and artists from different parts of the world and have, among other things, a nightclub at the top of the Aiguille du Midi, 3842 meter above sea level. Extreme skiing and extreme partying!
Summer
Chamonix attracts more visitors in Summer than in Winter. It is mainly climbing, trail running and hiking that are popular activities in Summer and you can also see many paragliders. The ski areas transform into fantastic hiking trails 
in Summer and if you're lucky, you will see an ibex or two climbing the steep slopes.
Ultra Trail du Mont Blanc
Ultra Trail du Mont Blanc takes place in the end of August and it's one of the world's toughest trail running contests. The event runs for several days and the longest run is 168 km with a vertical ascent of 9600m.
The Cosmo Jazz Festival
Cosmo Jazz festival will be on for 9 days every Summer in July. The festival celebrates the whole Mont Blanc mountain range in all its greatness. Musicians from all over the world bring their instruments out in nature and you can experience unique concerts combined with amazing views.
Chamonix - events and student life
As a student in Chamonix you don't need to worry about finding likeminded people. There are all kinds of people sharing one thing in common; their love for the mountains.
We work together with the ChamShake association who organise (amongst other things) film nights, pop up markets, parties and ski days. The association is run by a mixture of French, English and Swedish friends who aim to bring together all the different nationalities of Chamonix. If you take part in any of these events, it will provide you with excellent opportunities to practise your French.
Nightlife
In Chamonix you'll find bars from different parts of the world: English, Irish, French, Australian and Swedish just to name a few. Bars are open until 2am and for the real party animals the night continues in one of the four nightclubs.
More information about the different bars and nightclubs can be found at Chamonet.com.
Après ski (After ski)
At 4pm it's time for après ski. There are several bars to choose from but we think these are best:
MBC - The perfect spot for beer lovers! The bar is open all year round offering guests a welcoming atmosphere to relax in after a day skiing, climbing or mountain biking.
Monkey - Monkey has prided itself on bringing together delicious food, drinks, boogie-down music and great happy hours.
MOÖ bar - Live music, good food and fantastic service. MOÖ bar is popular for the local skiers and climbers to finish off their day on the mountain.
Climbing for students
Summer is a great time in Chamonix; it has a unique nature that offers many different and fun challenges. There is a range of outdoor activities to take advantage of in the valley, yet climbing remains the king pastime activity. For many of our students, they come here to study and climb as our Intensive Course has an alternating schedule; you can study in the morning then head out to enjoy the mountains in the afternoon or vice versa. If you are a climber at a beginner level or an experts who wishes to improve your mountains skills, there are exceptional mountain guides and workshops that you can participate and advance in:
Sports climbing & Alpinism
- Alpine climbing with an overnight bivouac or refuge
Theoretical education
- Glacier and mountain awareness
- Mountain safety
Practical education
- Rope techniques
- Use of glacier equipment
- Rescue
Mountain medicine
- Altitude sickness
- Energy & nutrition in the mountains
- Frostbite and hypothermia
- Training
There are over 200 mountain guides and leaders working with the Compagnie des Guides de Chamonix and every July the Arc'Teryx Alpine Academy offer clinics for all levels to advance their mountain skills and gain alpine knowledge.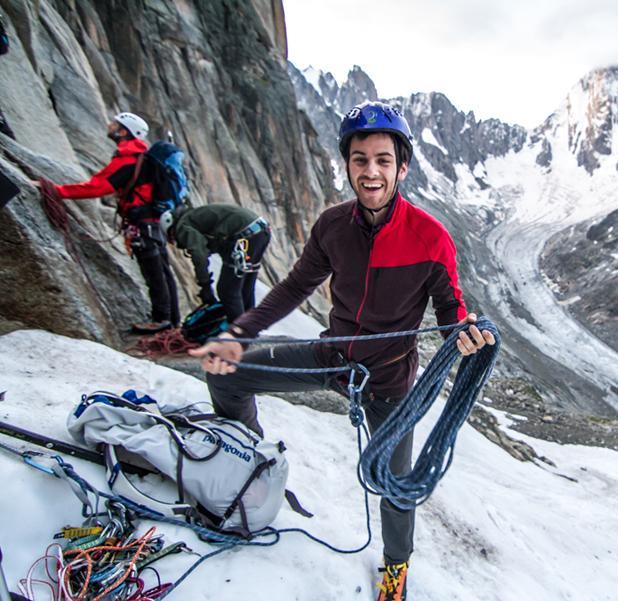 Skiing for students
Life in Chamonix revolves around the mountains and this is why the combination of French studies with mountain activities is so great! Practice your French whilst enjoying your favourite sports. There is a lot of time for activities when you choose our French Intensive Course, you can go skiing every day, meet friends with similar interests and improve your French at our school. Ski lessons are not included in the Intensive Course but your seasonal lift pass is part of the French Intensive Program. We can help you get in touch with certified ski instructors and for you who want to learn basic avalanche and glacier awareness so that you can experience the mountains in a safer way; there are plenty of qualified guides to help you develop skills and knowledge in:
Avalanche awareness
1. Theoretical education
2. Practical education
- Avalanche, probe, shovel and transceiver training
Glacier awareness
1. Theoretical education
2. Practical education
- Rope techniques
- Use of glacier equipment
- Rescue
Mountain medicine
- Altitude sickness
- Energy & nutrition in the mountains
- Frostbite and hypothermia
- Training