After a rather soggy camping trip to Vallorcine at the weekend, our Overland group have had a fun few days learning French and exploring the mountains around Chamonix. The group had a great lesson with Tristan and Myriam learning about movies and comic books in French, and then watched the famous Asterix movie.
Myriam created a fun board game for the class to play, with questions involving participation by the students singing and miming! The students played for 2 hours and then continued the fun outdoors with a traditional French game of petanque.
On Wednesday the students hiked to the Bergerie Blatière which is a functioning farm on the hillside above Chamonix. The group were shown how to make goats cheese and tasted some of the local delicacies including local cheeses and meats. The group fed the chickens and collected the eggs that had been laid, they also petted the family pig and saw some sheep.
For the final day of the trip, our Overland students went up in the cable car to the highest point possible on the Aiguille du Midi (3482m) and had a great view of Mont Blanc. The students then hiked together with Myriam and Tristan across the Plan d'Aiguille to the Montenvers train. Thankfully they could rest their weary legs on the train ride down!
We look forward to next summer's Overland adventures!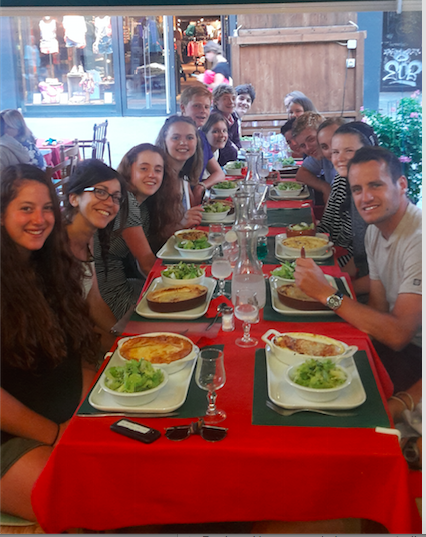 Our Overland group enjoying a traditional Savoyard dinner at Le Bivouac Restaurant Chamonix.